WATCHTOWER Study Article 46: January 17-23, 2022
Newly Married Couples​—Build Your Life Around Serving Jehovah
"Jehovah is my strength . . . In him my heart trusts."​—Psalm 28:7.
OPENING SONG 131, "What God Has Yoked Together", based on Matthew 19:5, 6
1. With dignity and joy,
A threefold cord is bound.
With God and men to witness,
These sacred vows resound.
(CHORUS 1)
He vowed before Jehovah
To love her from the heart.
"What God has yoked together,
Let no man put apart."
2. They both have searched God's Word
To learn to do his will,
And now they seek his blessing,
Their promise to fulfill.
(CHORUS 2)
She vowed before Jehovah
To love him from the heart.
"What God has yoked together,
Let no man put apart."
PREVIEW
Footnote reads: Some decisions we make can affect the amount of time and energy we have available to serve Jehovah. Newly married couples in particular face decisions that can have a long-term impact on their life. This article will help them make wise decisions that lead to a happy, meaningful life.- End Footnote.

PARAGRAPH 1-2.
1-2. - part "a" - Why should newly married couples trust in Jehovah? Psalm 37:3, 4 - part "b" - What will we consider in this article?
ARE you about to get married, or are you newly married? If so, no doubt you look forward to enjoying life with the person you love so deeply. Of course, marriage has its challenges, and there are important decisions to make. The way you approach those challenges and decisions will affect your happiness as a couple for years to come. If you rely on Jehovah, you will make wise decisions, your marriage will grow stronger, and you will be happier. If you fail to take into account God's thinking, you will likely encounter problems that will put a strain on your marriage, leading to unhappiness.​—Read
Quotation: Psalm 37:3, 4. Trust in Jehovah and do what is good; Reside in the earth, and act with faithfulness.  4 Find exquisite delight in Jehovah, And he will grant you the desires of your heart.- End quotation.

2 Although this article is directed to newly married couples, it will discuss challenges that all married couples might face. It will highlight what we can learn from the examples set by some faithful men and women of the Bible. These Bible examples teach us lessons that we can apply in various areas of life, including marriage. We will also see what we can learn from the experiences of some modern-day couples.
WHAT CHALLENGES MIGHT NEWLY MARRIED COUPLES FACE?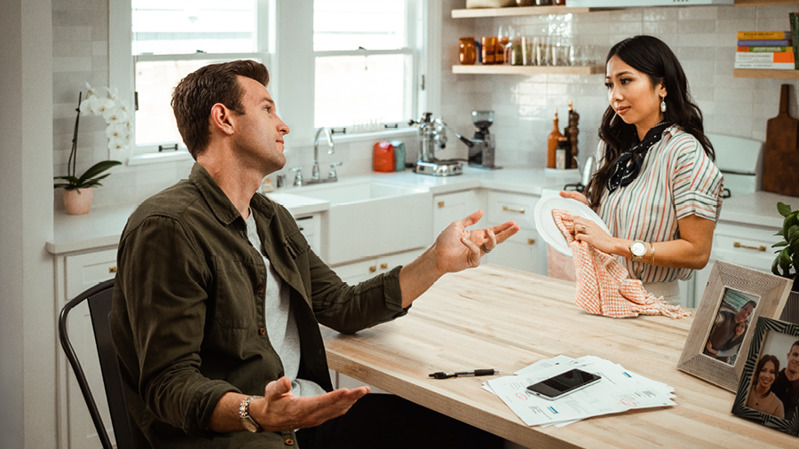 What decisions may prevent newlyweds from expanding their service to Jehovah? See paragraphs 3-4
PARAGRAPH 3-4.
3-4. What challenges might newly married couples face?
3 Some people may encourage a newly married couple to live a so-called normal life. For example, parents and other relatives might pressure a couple to start having children as soon as possible. Or well-meaning friends and family members might urge newlyweds to buy a house and fill it with nice things.
4 If not careful, a couple might make decisions that cause them to incur burdensome debts. Then, both husband and wife will likely have to work long hours in order to pay off those debts. Secular work could begin to cut into the time that should be spent in personal Bible study, family worship, and the ministry. The couple may even miss meetings to work overtime in order to earn extra money or to ensure that they can keep their jobs. As a result, they miss out on exciting opportunities to expand their service to Jehovah.
PARAGRAPH 5.
5. What do you learn from the example of Klaus and Marisa?
5 Experience shows that focusing our life on gaining material things does not lead to happiness. Consider what a couple named Klaus and Marisa learned in this regard.
Footnote reads: Some names have been changed.- End Footnote.
At the start of their married life, they both worked full-time so that they could live comfortably. Deep down, however, they did not feel satisfied. Klaus admits: "We had more than we needed materially, but spiritually we had no goals. To be honest, life was complicated and stressful." Perhaps you too have noticed that focusing on gaining material things has not brought you satisfaction. If so, do not be discouraged. Considering the good examples of others can help you in this regard. First, let us consider what husbands can learn from the example set by King Jehoshaphat.
LIKE KING JEHOSHAPHAT, TRUST IN JEHOVAH

PARAGRAPH 6.
6. In harmony with the counsel recorded at Proverbs 3:5, 6, how did King Jehoshaphat meet a serious challenge?
6 Husbands, do you sometimes feel overwhelmed by your responsibilities? If so, you can benefit from King Jehoshaphat's example. As king, Jehoshaphat was responsible for the welfare of the entire nation! How did he handle that extraordinary responsibility? Jehoshaphat did what he could to protect those under his care. He fortified the cities of Judah and assembled a mighty force of more than 1,160,000 soldiers.
Quotation: 2 Chronicles 17:12 to 19. Jehoshaphat grew greater and greater, and he continued building fortified places and storage cities in Judah. 13 He carried out extensive projects in the cities of Judah, and he had soldiers, mighty warriors, in Jerusalem. 14 These were grouped by their paternal houses: of Judah the chiefs of thousands, Adnah the chief, and with him were 300,000 mighty warriors. 15 And under his command was Jehohanan the chief, and with him were 280,000. 16 And also under his command was Amasiah the son of Zichri, who volunteered for Jehovah's service, and with him were 200,000 mighty warriors. 17 And out of Benjamin was Eliada, a mighty warrior, and with him were 200,000 men equipped with the bow and shield. 18 And under his command was Jehozabad, and with him were 180,000 men equipped for the army. 19 These were ministering to the king in addition to those whom the king put in the fortified cities throughout all Judah.- End quotation.
Later, Jehoshaphat was confronted with a serious challenge. A large army of Ammonites, Moabites, and men of the mountainous region of Seir threatened him, his family, and his people.
Quotation: 2 Chronicles 20:1, 2. Afterward the Moabites and the Ammonites, together with some of the Ammonim, came to wage war against Jehoshaphat. 2 So Jehoshaphat was told: "A large crowd has come against you from the region of the sea, from Edom, and there they are in Hazazon-tamar, that is, En-gedi."- End quotation.
What did Jehoshaphat do? He looked to Jehovah for help and strength. This was in harmony with the wise counsel found at
Quotation: Proverbs 3:5, 6. Trust in Jehovah with all your heart, And do not rely on your own understanding.  6 In all your ways take notice of him, And he will make your paths straight.- End quotation.
Jehoshaphat's humble prayer, recorded at 2 Chronicles 20:5 to 12, reveals just how much he trusted in his loving heavenly Father.
Quotation: 2 Chronicles 20:5 to 12. Then Jehoshaphat stood up in the congregation of Judah and Jerusalem in the house of Jehovah before the new courtyard, 6 and he said: "O Jehovah the God of our forefathers, are you not God in the heavens; do you not have dominion over all the kingdoms of the nations? In your hand are power and might, and no one can stand against you. 7 O our God, did you not drive away the inhabitants of this land from before your people Israel and then give it as a lasting possession to the offspring of your friend Abraham? 8 And they settled in it, and they built for you there a sanctuary for your name, saying, 9 'If disaster should come on us, whether by sword, adverse judgment, pestilence, or famine, let us stand before this house and before you (for your name is in this house and call to you for help out of our distress, and may you hear and save us.' 10 Now here are the men of Ammon, Moab, and the mountainous region of Seir, whom you did not allow Israel to invade when they came out of the land of Egypt. They turned away from them and did not annihilate them. 11 Now they are repaying us by coming in to drive us out from your possession that you gave us as an inheritance. 12 O our God, will you not execute judgment on them? For we are powerless before this large crowd that is coming against us; and we do not know what we should do, but our eyes are toward you."- End quotation.
How did Jehovah respond to Jehoshaphat's prayer?
PARAGRAPH 7.
7. How did Jehovah respond to Jehoshaphat's prayer?
7 Jehovah spoke to Jehoshaphat by means of a Levite named Jahaziel. Jehovah said: "Take your position, stand still, and see the salvation of Jehovah in your behalf."
Quotation: 2 Chronicles 20:13 to 17. Meanwhile, all those of Judah were standing before Jehovah, along with their little ones, their wives, and their children. 14 Then in the middle of the congregation, the spirit of Jehovah came upon Jahaziel son of Zechariah son of Benaiah son of Jeiel son of Mattaniah the Levite of the sons of Asaph. 15 He said: "Pay attention, all Judah and you inhabitants of Jerusalem and King Jehoshaphat! Here is what Jehovah says to you, 'Do not be afraid or be terrified because of this large crowd, for the battle is not yours but God's. 16 Tomorrow go down against them. They will be coming up by the pass of Ziz, and you will find them at the end of the valley before the wilderness of Jeruel. 17 You will not need to fight this battle. Take your position, stand still, and see the salvation of Jehovah in your behalf. O Judah and Jerusalem, do not be afraid or be terrified. Tomorrow go out against them, and Jehovah will be with you.'"- End quotation.
That certainly is not the usual way to fight a battle! However, those instructions were not from a human source; they came from Jehovah. With full trust in his God, Jehoshaphat did as he was told. When he and the people went out to meet the enemy, he placed at the front of his troops, not the most skilled soldiers, but the unarmed singers. Jehovah did not let Jehoshaphat down; He defeated the enemy army.​—
Quotation: 2 Chronicles 20:18 to 23. At once Jehoshaphat bowed low with his face to the ground, and all Judah and the inhabitants of Jerusalem fell down before Jehovah to worship Jehovah. 19 Then the Levites who were descendants of the Kohathites and the Korahites rose up to praise Jehovah the God of Israel with a very loud voice. 20 They rose up early the next morning and went out to the wilderness of Tekoa. As they went out, Jehoshaphat stood up and said: "Listen to me, O Judah and you inhabitants of Jerusalem! Put faith in Jehovah your God so that you may be able to stand firm. Put faith in his prophets, and you will be successful." 21 After he consulted with the people, he appointed men to sing to Jehovah and to offer praise in holy adornment as they went out ahead of the armed men, saying: "Give thanks to Jehovah, for his loyal love endures forever." 22 When they began joyfully singing praises, Jehovah set an ambush against the men of Ammon, Moab, and the mountainous region of Seir who were invading Judah, and they struck each other down. 23 And the Ammonites and the Moabites turned against the inhabitants of the mountainous region of Seir to destroy and annihilate them; and when they finished with the inhabitants of Seir, they helped to destroy one another.- End quotation.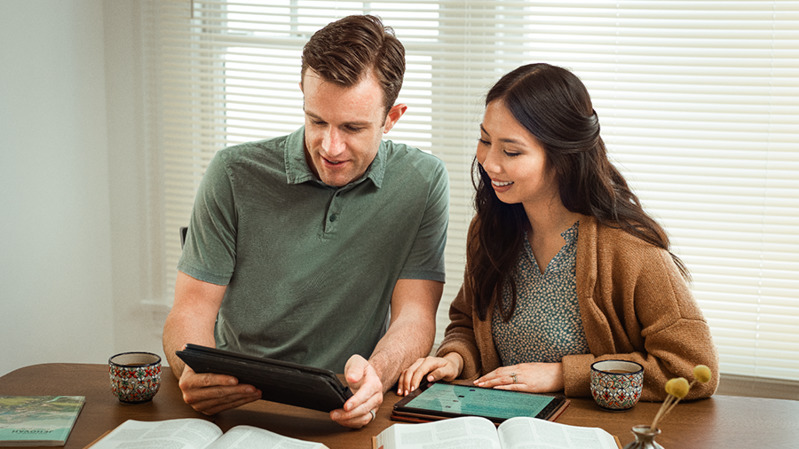 Newly married couples can build their life around serving Jehovah by praying and studying his Word See paragraphs 8, 10
PARAGRAPH 8.
8. What can husbands learn from Jehoshaphat's example?
8 Husbands, you can learn from Jehoshaphat's example. You are responsible for the welfare of your family, so you work hard to protect and support your family. When you face challenges, you may feel that you have the resources to handle the problem on your own. However, resist the inclination to rely on your own strength. Instead, pray privately for Jehovah's help. In addition, pray fervently with your wife. Seek direction from Jehovah by studying the Bible and publications provided by God's organization, and apply the counsel you find. Others might not agree with the Bible-based decisions you make, and they might even tell you that you are being foolish. They might say that money and the things it can buy will provide the best protection for your family. But remember the example of Jehoshaphat. He trusted in Jehovah and proved it by his actions. Jehovah did not abandon that loyal man, and he will not abandon you.
Quotation: Psalm 37:28. For Jehovah loves justice, And he will not abandon his loyal ones. They will always be guarded; But the descendants of the wicked will be done away with.- End quotation.

Quotation: Hebrews 13:5. Let your way of life be free of the love of money, while you are content with the present things. For he has said: "I will never leave you, and I will never abandon you."- End quotation.
What can couples do to ensure that they have a rewarding life together?
LIKE THE PROPHET ISAIAH AND HIS WIFE, BUILD YOUR LIFE AROUND SERVING JEHOVAH

PARAGRAPH 9.
9. What can be said about the prophet Isaiah and his wife?
9 The prophet Isaiah and his wife centered their life on serving Jehovah. Isaiah was a prophet, and it may well be that his wife had her own prophetic assignments, since she is called "the prophetess."
Quotation: Isaiah 8:1 to 4. Jehovah said to me: "Take a large tablet and write on it with an ordinary stylus, 'Maher-shalal-hash-baz.' 2 And let me have it confirmed in writing by faithful witnesses, Uriah the priest and Zechariah the son of Jeberechiah." 3 Then I had relations with the prophetess, and she became pregnant and in time gave birth to a son. Jehovah then said to me: "Name him Maher-shalal-hash-baz, 4 for before the boy knows how to call out, 'My father!' and 'My mother!' the resources of Damascus and the spoil of Samaria will be carried away before the king of Assyria."- End quotation.
As a couple, Isaiah and his wife were evidently focused on their worship of Jehovah. What an excellent example they set for married couples today!
PARAGRAPH 10.
10. How can studying Bible prophecy help married couples be determined to do as much as possible for Jehovah?
10 Married couples today can build their life around serving Jehovah by doing all they can in his service. They can reinforce their trust in Jehovah by studying Bible prophecy together and seeing how it always comes true.
Footnote reads: As an example, consider the lessons found in chapters 6, 7, and 19 of the book Pure Worship of Jehovah​—Restored At Last!- End Footnote.

Quotation: Titus 1:2. and is based on a hope of the everlasting life that God, who cannot lie, promised long ago;- End quotation.
They can reflect on the share they can have in the fulfillment of certain Bible prophecies. For example, they can have a part in fulfilling Jesus' prophecy that the good news will be preached in all the earth before the end comes.
Quotation: Matthew 24:14. And this good news of the Kingdom will be preached in all the inhabited earth for a witness to all the nations, and then the end will come.- End quotation.
The more a couple are certain that Bible prophecy is coming true, the greater will be their determination to do as much as possible for Jehovah.
LIKE PRISCILLA AND AQUILA, PUT KINGDOM INTERESTS FIRST

PARAGRAPH 11.
11. What were Priscilla and Aquila able to do, and why?
11 Young married couples can learn from Priscilla and Aquila, a Jewish couple who lived in the city of Rome. They had heard the good news about Jesus and had become Christians. No doubt, they were satisfied with their circumstances. However, life took an unexpected turn for them when Emperor Claudius ordered all the Jews to leave Rome. Consider what that meant for Aquila and Priscilla. They would have to leave familiar surroundings, set up a new home, and establish their tentmaking business in a new location. Would this disruption to their life cause them to push Kingdom interests into the background? You likely know the answer to that question. In their new home in Corinth, Aquila and Priscilla got involved with the local congregation and worked along with the apostle Paul to strengthen the brothers there. Later, they moved to other towns where there was a greater need for preachers.
Quotation: Acts 18:18 to 21. However, after staying quite a few days longer, Paul said good-bye to the brothers and sailed away for Syria, accompanied by Priscilla and Aquila. He had his hair clipped short in Cenchreae, for he had made a vow. 19 So they arrived at Ephesus, and he left them there; but he entered the synagogue and reasoned with the Jews. 20 Although they kept requesting him to stay longer, he would not consent 21 but said good-bye and told them: "I will return to you again, if Jehovah is willing." And he put out to sea from Ephesus- End quotation.

Quotation: Romans 16:3 to 5. Give my greetings to Prisca and Aquila, my fellow workers in Christ Jesus, 4 who have risked their own necks for me and to whom not only I but also all the congregations of the nations give thanks. 5 Also greet the congregation that is in their house. Greet my beloved Epaenetus, who is a firstfruits of Asia for Christ.- End quotation.
What a rich and rewarding life they must have enjoyed together!
PARAGRAPH 12.
12. Why should a married couple set spiritual goals?
12 Modern-day couples can imitate Priscilla and Aquila by putting Kingdom interests first. The best time for a couple to talk about their goals in life is while they are courting. When a couple make decisions together and strive to reach common spiritual goals, they have more opportunities to see Jehovah's spirit at work in their life.
Quotation: Ecclesiastes 4:9. Two are better than one because they have a good reward for their hard work.- End quotation.

Quotation: Ecclesiastes 4:12. And someone may overpower one alone, but two together can take a stand against him. And a threefold cord cannot quickly be torn apart.- End quotation.
Consider the experience of Russell and Elizabeth. Russell says, "During courtship, we specifically discussed our spiritual goals." Elizabeth says, "We had that discussion so that later when faced with various decisions, we would make sure that our choices would not prevent us from reaching those goals." The circumstances of Russell and Elizabeth allowed them to move to Micronesia to serve where the need for publishers was greater.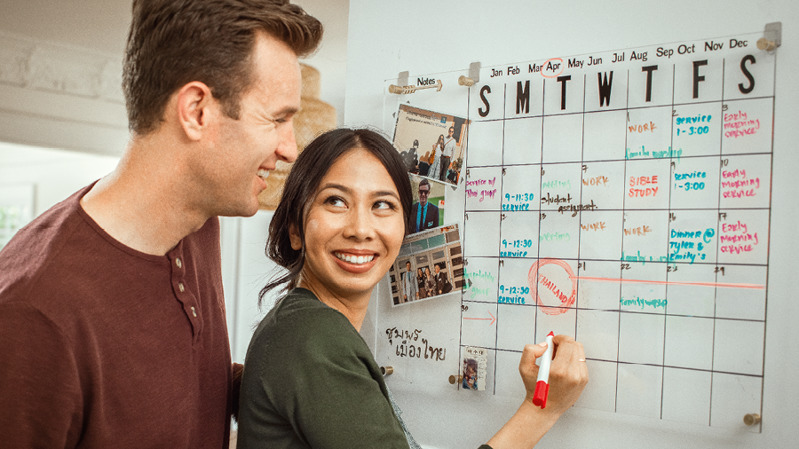 Newly married couples can build their life around serving Jehovah by setting spiritual goals See paragraph 13
PARAGRAPH 13.
13. According to Psalm 28:7, what will be the outcome when we trust in Jehovah?
13 Like Russell and Elizabeth, many couples have made the decision to devote as much time as possible to the preaching and teaching work by keeping free from other commitments. When a couple set worthwhile goals in Jehovah's service and then work together to achieve them, much good will result. They will see how Jehovah cares for them, their trust in him will grow, and they will become genuinely happy.​—Read
Quotation: Psalm 28:7. Jehovah is my strength and my shield; In him my heart trusts. I have received his help, and my heart rejoices, So I will praise him with my song.- End quotation.

LIKE THE APOSTLE PETER AND HIS WIFE, TRUST JEHOVAH'S PROMISES

PARAGRAPH 14.
14. How did the apostle Peter and his wife show that they trusted the promise found at Matthew 6:25, 31-34?
14 Married couples can also learn from the example set by the apostle Peter and his wife. About six months to a year after his first encounter with Jesus, the apostle Peter had to make an important decision. Peter made his living in the fishing business. So when Jesus invited Peter to follow him full-time, Peter had to take into account his family situation.
Quotation: Luke 5:1 to 11. On one occasion when the crowd was pressing in on him and listening to the word of God, he was standing by the lake of Gennesaret. 2 And he saw two boats docked at the lakeside, but the fishermen had got out of them and were washing off their nets. 3 Going aboard one of the boats, which was Simon's, he asked him to pull away a bit from land. Then he sat down, and he began teaching the crowds from the boat. 4 When he stopped speaking, he said to Simon: "Pull out to where it is deep, and let down your nets for a catch." 5 But in reply Simon said: "Instructor, we toiled all night and caught nothing, but at your word I will lower the nets." 6 Well, when they did this, they caught a great number of fish. In fact, their nets began ripping apart. 7 So they motioned to their partners in the other boat to come and assist them, and they came and filled both boats, so that these began to sink. 8 Seeing this, Simon Peter fell down at the knees of Jesus, saying: "Depart from me, Lord, because I am a sinful man." 9 For both he and those with him were overwhelmed with astonishment at the catch of fish they had taken, 10 and the same was true of both James and John, Zebedee's sons, who were partners with Simon. But Jesus said to Simon: "Stop being afraid. From now on you will be catching men alive." 11 So they brought the boats back to land and abandoned everything and followed him.- End quotation.
Peter chose to accompany Jesus in his preaching activity. He chose wisely! And we have good reason to conclude that Peter's wife supported his decision. The Bible indicates that after Jesus' resurrection, she traveled with Peter for at least some of the time.
Quotation: 1 Corinthians 9:5. We have the right to be accompanied by a believing wife, as the rest of the apostles and the Lord's brothers and Cephas, do we not?- End quotation.
Undoubtedly, her example as a Christian wife gave Peter freeness of speech to record inspired counsel for Christian husbands and wives.
Quotation: 1 Peter 3:1 to 7. In the same way, you wives, be in subjection to your husbands, so that if any are not obedient to the word, they may be won without a word through the conduct of their wives, 2 because of having been eyewitnesses of your chaste conduct together with deep respect. 3 Do not let your adornment be external—the braiding of hair and the wearing of gold ornaments or fine clothing— 4 but let it be the secret person of the heart in the incorruptible adornment of the quiet and mild spirit, which is of great value in the eyes of God. 5 For this is how the holy women of the past who hoped in God used to adorn themselves, subjecting themselves to their husbands, 6 just as Sarah obeyed Abraham, calling him lord. And you have become her children, provided you continue doing good and do not give in to fear. 7 You husbands, in the same way, continue dwelling with them according to knowledge. Assign them honor as to a weaker vessel, the feminine one, since they are also heirs with you of the undeserved favor of life, in order for your prayers not to be hindered.- End quotation.
Obviously, both Peter and his wife trusted Jehovah's promise that He would provide for them if they put the Kingdom first in their life.​—Read
Quotation: Matthew 6:25. "On this account I say to you: Stop being anxious about your lives as to what you will eat or what you will drink, or about your bodies as to what you will wear. Does not life mean more than food and the body than clothing?- End quotation.

Quotation: Matthew 6:31 to 34. So never be anxious and say, 'What are we to eat?' or, 'What are we to drink?' or, 'What are we to wear?' 32 For all these are the things the nations are eagerly pursuing. Your heavenly Father knows that you need all these things. 33 "Keep on, then, seeking first the Kingdom and his righteousness, and all these other things will be added to you. 34 So never be anxious about the next day, for the next day will have its own anxieties. Each day has enough of its own troubles.- End quotation.

PARAGRAPH 15.
15. What do you learn from the experience of Tiago and Esther?
15 If you have been married for a few years now, how can you continue to cultivate the desire to expand your ministry? One way is by taking note of the experiences of other couples. For instance, you could read the series "They Offered Themselves Willingly." Such articles helped Tiago and Esther, a married couple from Brazil, to develop a strong desire to serve where the need is greater. Tiago explains: "As we read experiences of how Jehovah helped his servants in modern times, we too wanted to feel Jehovah's hand guiding us and caring for us." They eventually moved to Paraguay, where they have been serving in the Portuguese field since 2014. Esther says: "One text that we both love very much is
Quotation: Ephesians 3:20. Now to the one who can, according to his power that is operating in us, do more than superabundantly beyond all the things we ask or conceive,- End quotation.
Time and again, we have seen those words come true in our service to Jehovah." In that letter to the Ephesians, Paul promised that Jehovah would provide much more than what we ask for. How true that promise is!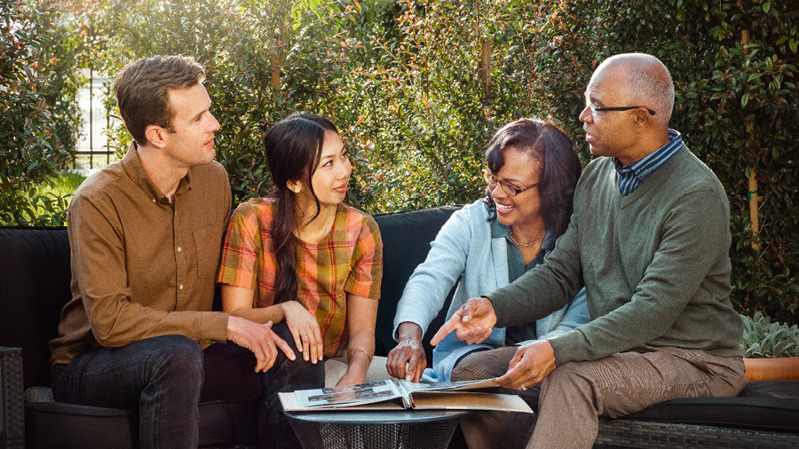 Newly married couples can build their life around serving Jehovah by seeking advice from mature ones See paragraph 16
PARAGRAPH 16.
16. Whose advice can young couples seek when assessing their goals in life?
16 Young couples today can benefit from the experience of others who have learned to rely on Jehovah. Some couples may have spent decades serving in the full-time ministry. Why not seek their advice if you feel the need to assess your goals? This is another way to show that you are trusting in Jehovah.
Quotation: Proverbs 22:17. Incline your ear and listen to the words of the wise, In order to apply your heart to my knowledge,- End quotation.

Quotation: Proverbs 22:19. For your confidence to be in Jehovah, I am giving you knowledge today.- End quotation.
Elders too can help young married couples set and reach spiritual goals.
PARAGRAPH 17.
17. What happened to Klaus and Marisa, and what do we learn from their experience?
17 At times, though, our decision to expand our service may not turn out as we expected. Take the example of Klaus and Marisa, mentioned at the outset. After being married for three years, they moved away from their home and volunteered to do construction work at the Finland branch. However, they learned that they would not be allowed to stay there for more than six months. At first, they felt disappointed. But as things turned out, they were soon invited to attend an Arabic language course, and they are now happily serving in the Arabic-speaking field in another country. In retrospect, Marisa admits: "It is scary to step out of your comfort zone and trust in Jehovah completely. But I have seen how Jehovah has always helped us in unexpected ways. After experiencing this, my trust in Jehovah has grown stronger." As this example shows, you can be certain that Jehovah will always reward you if you trust in him completely.
PARAGRAPH 18.
18. What can married couples do to keep trusting in Jehovah?
18 Marriage is a gift from Jehovah.
Quotation: Matthew 19:5, 6. and said: 'For this reason a man will leave his father and his mother and will stick to his wife, and the two will be one flesh'? 6 So that they are no longer two, but one flesh. Therefore, what God has yoked together, let no man put apart."- End quotation.
He wants married couples to enjoy that gift.
Quotation: Proverbs 5:18. May your own fountain be blessed, And may you rejoice with the wife of your youth,- End quotation.
Young couples, why not examine how you are spending your life? Are you doing all you can to show Jehovah how much you appreciate the gifts he has given you? Talk to Jehovah in prayer. Search his Word for principles that apply to your situation. Then heed the advice that Jehovah gives you. You can be certain that you will have a happy and rewarding life if you build your marriage around serving Jehovah!
WHAT DID YOU LEARN ABOUT TRUSTING IN JEHOVAH FROM . . .

the prophet Isaiah and his wife?
Priscilla and Aquila?
the apostle Peter and his wife?
CLOSING SONG 132, Now We Are One, based on Genesis 2:23, 24
1. This is at last bone of my bone,
Flesh of my flesh; now I'm not alone.
God has provided a partner,
Someone to call my own.
Now we are one; now there can be
Blessings to share for you and for me.
As man and woman together,
We are a family.
Ev'ry day we'll serve our God above.
As he shows the way,
Unfailing love we'll display.
As we have vowed, so may it be.
Seasons of joy, may we come to see.
Oh, may we honor Jehovah,
And may you always be my love.
END WATCHTOWER STUDY